Posted on 16. Mar, 2009 by charles frenzel in Flash Rust, NSRP
Pressure Sensitive Tape Test- for Quantity of Flash Rust- NSRP Project
The Pressure Sensitive Tape Test described by Hempel is a modification of ISO 8502-3 (Pressure Sensitive Tape test for dust) and is not mentioned in VIS-4. The tape test can be used as a permanent record. If lint deposition is a concern, the project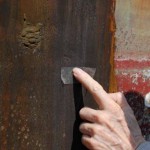 specification may require use of a different technique to determine the level of flash rust, such as the pressure-sensitive tape test. Those responsible for establishing the requirements and those responsible for performing the work can agree to the use of a different technique to determine the level of flash rust
Place a piece of tape (as specified in ASTM D 3359) in a length of at least 5 cm (2 in) on the surface and rub thoroughly with a fingertip–not a nail–to make the tape adhere firmly. Peel off the tape and place it on a piece of white paper for reference. Repeat this process 9 additional times (for a total of 10 tests) using a fresh piece of tape each time and apply the tape to the same spot. Assess the appearance of the tape and the surface.
The results from the pressure sensitive tape test lead to the same conclusions as the tape tests. For further details or training on this item, contact Dr. Frenzel.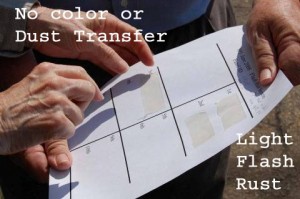 Tape Test from a Moderate Flash Rust (MFR) Surface (Below).