Posted on 15. Mar, 2009 by charles frenzel in NSRP
Example of Moderate Flash Rust Swatch: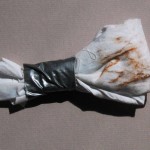  Easy to prepare the swatches.
 Keeps a constant light pressure.
 Gives a clear distinction between light, moderate, and heavy.
 The color transfers to only the cloth that is in contact with the surface. It can be difficult to interpret the various spots of color.